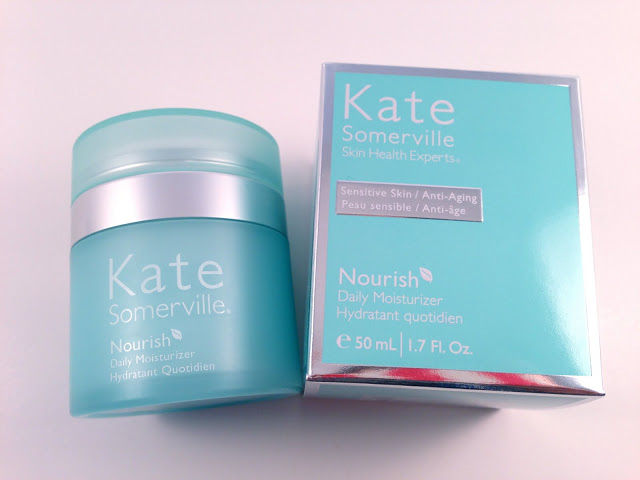 Kate Somerville Nourish Daily Moisturizer, $65/1.7oz and $120/5oz (not all sites/stores offer the larger luxury size) @ katesomerville.com, Sephora, Nordstrom, Skinstore.com, qvc.com, Neiman Marcus, beautybar.com
After I found out a few months back that my standby moisturizer (Avene Cream for Intolerant Skin) was discontinued I was a bit panicked. While it wasn't my Holy Grail moisturizer, it was one of the only moisturizers that didn't horribly clog me up or irritate my skin. I thought about buying a few tubes to stock up until I found a good replacement, but instead decided to make a mission out of finding a new moisturizer...
I bought the Kate Somerville Nourish Daily Moisturizer a little over a month ago, and have been smitten ever since!! *insert HAPPY dance* I even love it more than the Avene Cream for Intolerant Skin!!
First off, at $65 this may not seem like the most economical product but that price is for 1.7oz as opposed to the usual 1oz of many high end and luxury moisturizers. Per oz, this moisturizer is around $38. Also, if you go for the luxury 5oz size, it works out to only $24 per oz. Oh, and at $24 per oz that makes it cheaper than my old Avene...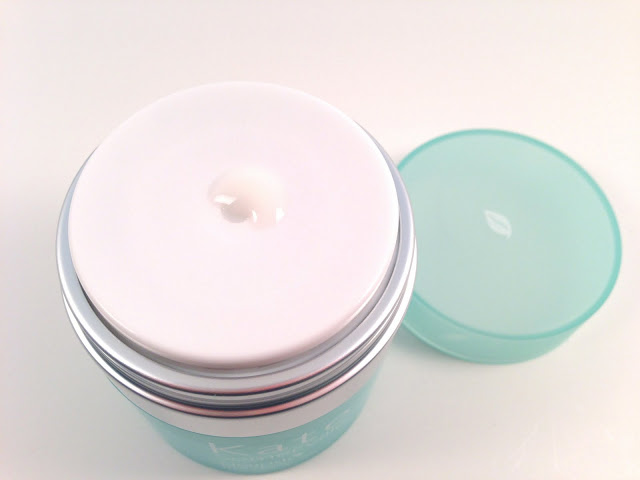 Several of Kate Somerville's products come in this airless pump, where you press down and product comes out of the middle circle. I love airless pumps because I feel as though the product remains fresher and will keep its actives longer than a traditional jar or tube. With this particular dispenser, it's also very easy to control the amount of product and only dispense what you will use.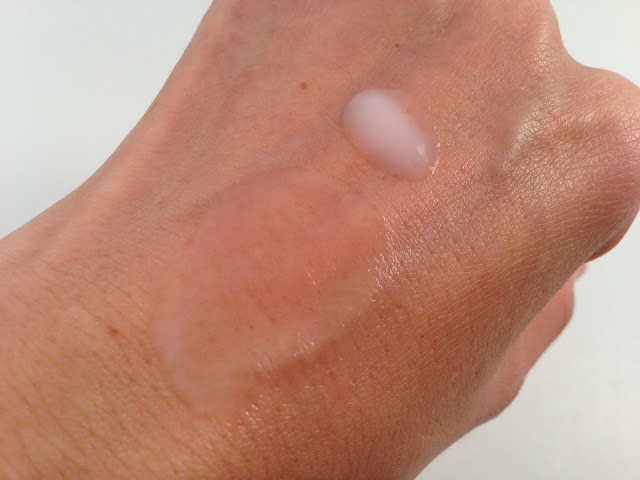 Top of hand is how it looks just dispensed, right below is spread out a bit.
The texture is a little more fluid/serum-like...lighter weight than a cream and does not hold its shape. It sinks in very quickly without any residue or stickiness. I love this texture because you don't feel as though your skin is suffocating behind some heavy or greasy cream, and it actually feels soothing.
I have an oily chin and nose, and am normal to super dry everywhere else. I have been using this day and night, and am able to use this all over my face and neck with absolutely no irritation or clogs. On my oily areas, I product slightly less oil using this moisturizer. For everywhere except my super dry areas it seems to be the perfect amount of moisture. On those super dry areas I layer a bit more Nourish and also use a serum underneath.
While not everyone will have the same results, personally I am so totally over the moon that this doesn't cause any reactions!! And I don't know how else to describe it, but with Nourish my face seems more perked up...fresher...brighter...healthier...happier! This is absolutely a repurchase!!
Nourish is definitely more than a basic moisturizer, but not so complex as to be fussy with your skin. What Kate's site says:
Nourish Daily Moisturizer saturates skin with sophisticated Anti-aging Extracts and Rich Botanicals, formulated to improve texture and increase elasticity. This advanced blend absorbs quickly, leaving nothing behind except a fresh, balanced complexion.
Matrixyl™ 3000 aggressively combats the appearance of fine lines and wrinkles.
The purest form of Vitamin A, Retinyl Palmitate, is designed to soften and smooth.
Calming Lavender works in conjunction with clarifying Orange and Tea Tree Extracts to promote balanced, healthy-looking skin.
Clinically proven to be safe for sensitive skin.
Kate Somerville Nourish Daily Moisturizer ingredients:
Water/Aqua/Eau, Cetyl Lactate, Ethylhexyl Palmitate, Glyceryl Stearate, PEG-100 Stearate, Glycerin, Lavendula (Lavender) Angustifolia Extract, Camellia Sinensis Leaf Extract, Butylene Glycol, Triethanolamine, Tetrahexyldecyl Ascorbate, Acrylates/C10-30 Alkyl Acrylate Crosspolymer, Citrus Aurantium Dulcis (Orange) Peel Oil, Zingiber Officinale (Ginger) Extract, Disodium EDTA, Carbomer, Polysorbate 20, Retinyl Palmitate, Palmitoyl Oligopeptide, Palmitoyl Tetrapeptide-7, Tochopherol, Chlorphenesin, Sodium Benzoate, Potassium Sorbate, Limonene, Linalool