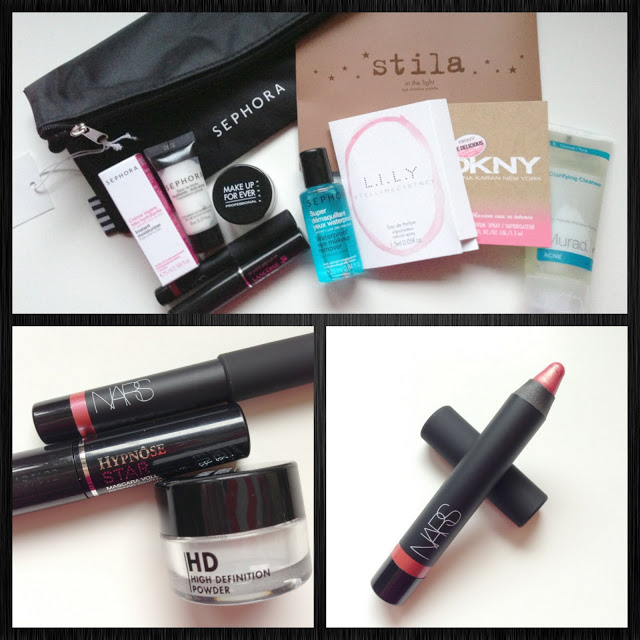 This week Sephora has 3 different kits available free with a $25 BI or VIB purchase (details here). This one is the 'Best in Classic' kit, and I chose this one because of the NARS Velvet Gloss Lip Pencil in New Lover and the new L.I.L.Y. fragrance tester from Stella McCartney - I love her first fragrance, Stella.
I think it's another great little free gift from Sephora! Here are the full contents:
Stella McCartney L.I.L.Y.
Lancome Hypnose Star Mascara
NARS Velvet Gloss Lip Pencil in New Lover
Sephora Waterproof Eye Makeup Remover (was supposed to be the Lancome Bi-Facil)
Murad Clarifying Cleanser
Sephora Collection Anti-Shine Foundation Primer
Make Up For Ever HD Microfinish Powder
Cartier Baiser Vole EDP **edited: oops this was missing too - replaced with the DKNY
Stila In the Light Shadow Card
I actually had placed another order because an Hourglass eyeshadow duo that wasn't in stock finally came in...got another Classic kit that did have the Lancome Bi-Facil, but also had 2 L.I.L.Y.'s and no Cartier perfume sample. Oooops...and I must apologize! That Sephora Instant Moisturizer in the pic wasn't part of the set. Just realized I accidentally mixed up a sample in there.
Anyone out there receive one of the other ITKITs??