Aaaahh...my first empties post! I've been inspired by all the empties/used up posts and videos I've watched the past few months, specifically those by Beauty Reductionista and Lola's Secret Beauty Blog. I find this is a great way to read mini reviews of products I may have missed in a regular post, or to discover new products the blogger/vlogger may not give a full review to.
This past month I surprised myself and made an extra effort to reach for samples to use up!! They usually sit around gathering dust until I chuck them or give them away, so I'm excited to start digging into the pile :-)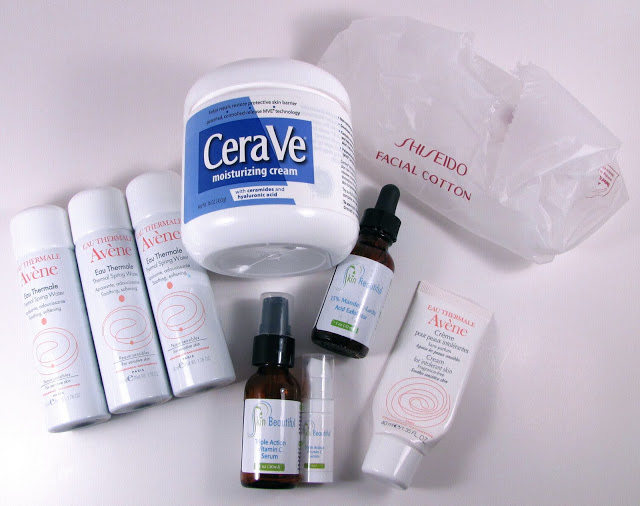 * Avene Thermal Water - love this stuff !! I've been going through it a lot more quickly since I've ditched regular toner and have just started 'rinsing' with this. I find the Tatcha Classic Rice Enzyme Powder (review here) does more than an adequate job of getting every last bit of makeup off. That's why I've been going without toner!
* CeraVe Cream - I use this as a body lotion and find it's an economical way to keep my skin very well moisturized and soft for a good 24 hours and longer. Some are successful in using this as a face cream, but unfortunately it caused very bad clogs for me. But I do love it for the rest of my skin!
* Shiseido Facial Cotton - Best cotton I've ever tried. Doesn't shed, is super soft and is the perfect size for my needs.
* Skin Beautiful 15% Mandelic/Lactic Acid - I still need to post a review, especially since it's one of my favorite products! I use this every 2nd or 3rd night (night only as the lactic acid can cause sun sensitivity) depending on how my skin is feeling. I also sometimes use this as a spot treatment, but only if I see a spot just coming up - never on active spots. It helps with pigmentation, acne scars, skin texture, smoothness and also helps to keep my pores clear and blackheads to a minimum.
* Avene Cream for Intolerant Skin (review here) - Oh, my old standby that has been discontinued. I hope Avene plans on replacing this with something! Until then I *think* I've found a very suitable and lovable alternative (stay tuned for a review!)...
* Skin Beautiful Triple Action Vitamin C Serum (full size and sample, review here) - Love, love, and totally in love!!! I don't ever want to be without!! Lightweight, helps protect from the sun, brightens, helps fade spots and pigmentation and you can use it around the eye area. This is one product that made a huge improvement in my skin. I had several sunspots that were much larger and a lot more noticeable than they are now.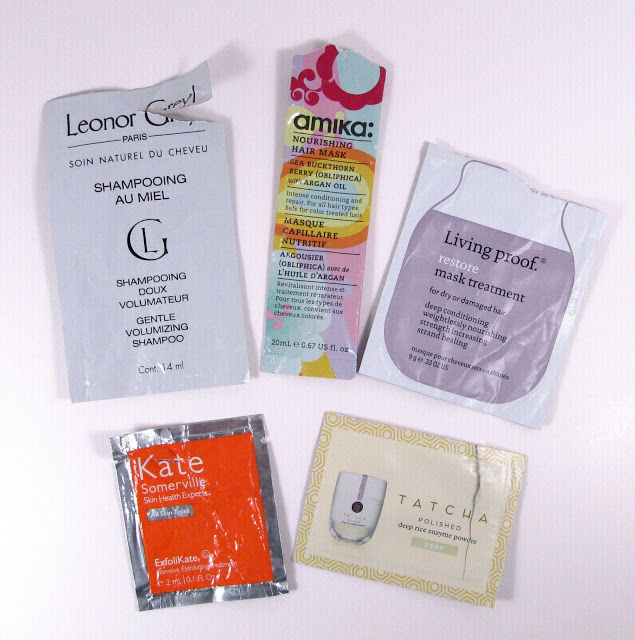 Onto the samples...
* Leonor Greyl Volumizing Shampoo - I received this from Beautyhabit. After 2 uses, I didn't see any difference in volume...though I have that stubborn and heavy Asian hair that simply doesn't do volume! It cleaned very well, to the point where my hair felt almost squeaky clean. I'd be interested in maybe trying some of the other formulas, but not this one.
* Amika Nourishing Hair Mask - This was from one of my Birchboxes. Oh, honey...this hair mask was amazing!! It's definitely going on my future purchase list! Soft, soft, soft...shiny...so moisturized...felt like a different head of hair :-)
* Living Proof Restore Mask Treatment - This was from Sephora. Ew. Did not like. At all. The smell didn't agree with me and my hair felt worse off than before the treatment! It didn't feel moisturized or soft...in fact it was the complete opposite of how the Amika mask felt!!
* Kate Somerville Exfolikate - This was from Sephora. Wow I forgot how much I really, REALLY enjoy/love/adore/fawn over this exfoliator!! A couple years back this used to be the only exfoliator I used. Then I decided to try others. Now...guess what...I'm baaaack!! This is absolutely on my list for the Sephora VIB sale!! It makes me feel as though I've shed a new skin and can start fresh :-) Gets every last dead skin cell and flakey spot off without any crazy scrubbing or tugging.
* Tatcha Deep Rice Enzyme Powder - This was from the Tatcha site, and was enough for several uses. While I absolutely adore the Classic Rice Enzyme Powder, the Deep version left my skin horribly dry. I would not recommend this unless you have oily or very oily skin.
Yay for Empties!! :-)