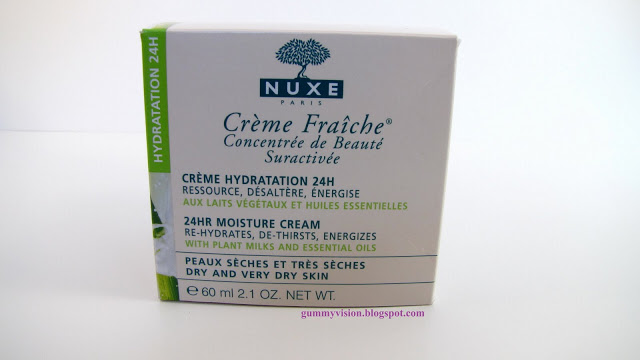 Nuxe Creme Fraiche 24Hr Moisture Cream, $44.50 for 2.1oz @ skinstore.com, dermstore.com (dermstore has it on sale right now for $36.50).
This is the first Nuxe Paris product I have ever tried. I was a little confused when I purchased it though...some sites have this one pictured that says 24hr Moisture Cream, others say 24Hr Energizing Moisture Cream though they both say for dry and very dry skin types. I'm not sure if they are the same product - anyone care to weigh in? Even the Nuxe US site doesn't have either name listed, and instead has the Creme Fraiche 24Hr Soothing and Moisturizing Cream. BUT the exact one pictured is the one in the links noted. Oh, and for just over 2 oz it's actually a pretty reasonable price - so many moisturizers are that much and more for only 1 oz!!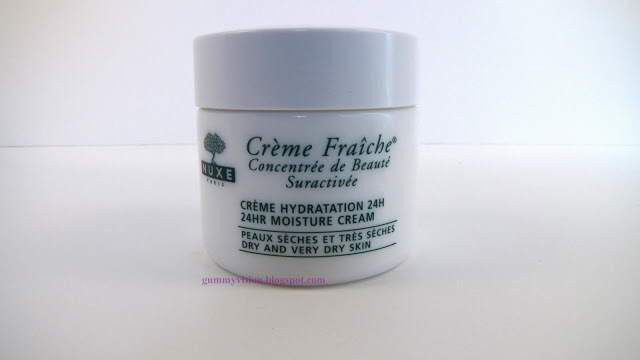 It is packaged in a heavy glass jar, which is very reminiscent of the La Mer jars. Not super practical for traveling, but is easily transferable to a smaller and lighter weight container.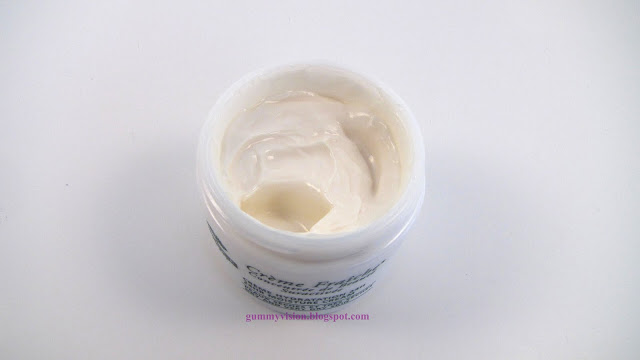 This smells really good! It's a faint, fresh green scent that disappears after a short time. The texture is like a lighter, whipped and fluffier version of Creme de la Mer. As you can see in the picture it's stiff enough to hold a shape (see the 'hole'!), but once you dip a finger or spatula into the cream you are surprised by just how lightweight it really is.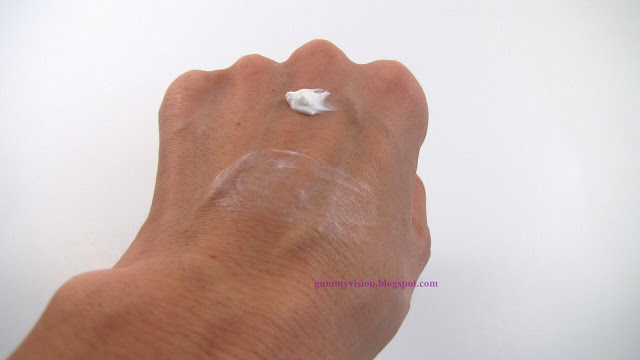 This cream is very easy to spread, though I prefer to warm it up a bit between my fingers before applying because it seems to absorb better and more quickly than applying straight from the jar. I am able to use this all over my combination skin (oily nose and chin, normal to super dry everywhere else). But when applying to my oily areas I only apply what's leftover on my fingers after having applied to the rest of my face and neck, and even then I only gently pat it in. If I apply too much to my oily areas then I get even more oily, but if I use this method then my oily areas are maintained (not more oily, but not less either).
Until you find the perfect amount to use for your skin, I would say start out with less than a pea-sized amount and add little by little if you feel you need it. While I liked the lightweight feel, I found when I tried to add too much on my very dry areas it started to feel a bit heavy.
I find this to be deeply hydrating, and the moisture did indeed last the 24 hours!! In fact, it moisturizes so well that I don't need a serum or anything else underneath! This is more than enough on its own. It left my skin with a nice, natural glow and my skin also feels very soft to the touch.
So here's the catch...both sites I listed do not have the full ingredient listing on their sites, which I find disappointingly misleading. I order from those sites regularly and this is the first time I've run into incorrect ingredient lists, so I'm not sure what the deal is. I have such sensitive and reactive skin these days that I very much depend on accurate ingredient lists to help weed out products with ingredients that won't work for me. Both sites list very small, simple ingredients and was a big part of the reason I ordered this product in the first place. I was shocked when I received the product and saw the humongous listing!! Here are the ingredients: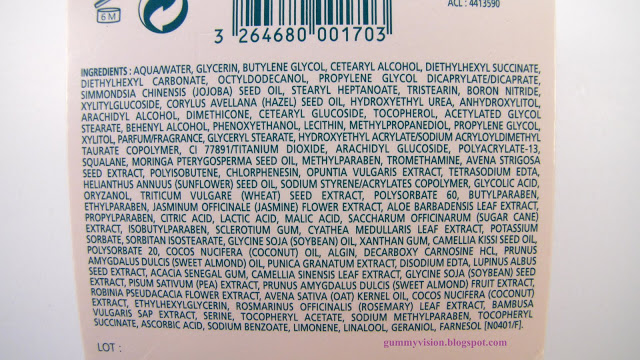 While I do really like how moisturizing and light this feels, it does irritate my skin around the 4 day mark. Then I stop for about a week then use it again for another 4 days. With this type of sporadic use, it is difficult to tell if it's much beyond a really nice, very hydrating basic moisturizer. Has anyone else tried it and could weigh in? I'd love to hear some opinions!
With winter looming, this might be a good option for deep moisture for when the heaters are running full blast! There is also an emulsion and an additional version for normal skin if this is too much for you.