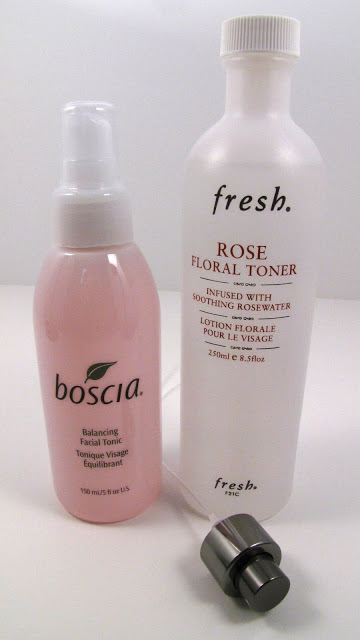 Boscia Balancing Facial Tonic, $24/5oz @ Sephora, bosciaskincare.com, dermstore.com, beautybar.com, ULTA, skincarerx.com
Fresh Rose Marigold Floral Water, $38/8.6oz @ Sephora, Barneys, Neiman Marcus - some bottles and/or packaging just says Fresh Rose Floral Water (not sure if this is old packaging or vice versa?)
The Boscia Balancing Facial Tonic comes in a spray bottle, and the Fresh Rose Marigold Floral Water comes with a regular screw top lid and in the box is also an optional spray nozzle. There is no cover or lid for the spray nozzle on the Fresh.
I'm spoiled by the Avene Thermal Water's aerosol spray because it creates a much more even application, and no product is wasted because you control where it goes. These spray nozzles are ok, but depending on your nozzle the mist that comes out is not always consistent. And because you have no control over what is dispensed, sometimes I feel product is wasted. Not a huge problem, more of a slight annoyance (and something to get used to since most refreshers come in a spray such as these) if you intend to use these sprays as midday refreshers.
But!!! Not only can they be used as toners but they can also be used to refresh, hydrate and as a pick-me-up during the day!
The Boscia smells fresh, clean and slightly of lavender. The Fresh has a subtle rose scent that fades quickly.
From Sephora, regarding the Boscia:
Achieve an ideal combination of moisture and purity with this complexion-perfecting formula. It works to banish impurities and excess sebum while guarding against dehydration. Skin is left supple and soft. This skincare essential, along with the entire Boscia line, is free of preservatives.
I tried the Boscia first. I noticed a difference right away. It wasn't a huge OMG difference, but I noticed my active spots started being less angry. I don't think this product necessarily has amazing acne fighting powers, but for me I think the improvement came with using a toner that was less harsh on my skin. After a couple of weeks I started getting spots where I normally don't, and this was the only new product I had introduced. I stopped until it cleared and then tried again. I had another reaction. On the flip side I did notice I would get less oily during the day when I used this! For application I sprayed onto cotton instead of directly on my face.
Since there are no preservatives on this product, I didn't want to break the seal so I never decanted it into a smaller spray bottle to use as a refresher or even to be more travel friendly. I just used the bottle as is. Boscia takes great care to make sure their products are contaminant free (you can read here for further info).
After I cleared up, I tried the Fresh. I found this to be more soothing and even gentler on my skin than the Boscia. And guess what?!! No breakouts or irritation!! Yay!! In fact, my spots continued to heal and I am now completely free of any active spots! In conjunction with the rest of my routine, the leftover marks are almost gone. Again, I don't think this product has superpower acne fighting ingredients. The difference has come from using a toner that is less harsh. I don't know what it is about this product, but it makes me go....aaaahhhh!! I feel as though my skin is fresh (no pun intended! Ha!) but not stripped in any way, plumped and I also feel I have a clean slate from which to apply my other products. I put the Fresh onto cotton to apply, and didn't even bother attaching the spray nozzle. I will definitely be repurchasing!!
From Sephora, regarding the Fresh:
This gentle floral water hydrates the skin for a plump and toned complexion. Regular use after cleansing imparts a healthy-looking glow. The natural aromatic experience adds a mood-enhancing dimension to the experience. Use it to revitalize the skin throughout the day, set makeup, and soothe irritations.
Again, for the Fresh I did not replace the cap with the spray nozzle. Instead I decant into a small spray bottle to use during the day as a refresher, and into a
much smaller container to use as a toner.
See below.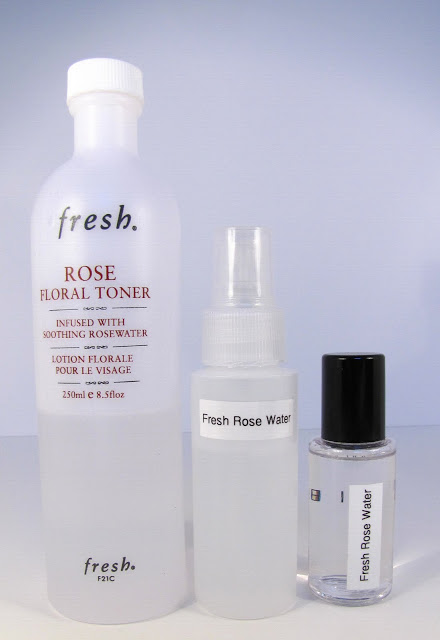 The spray bottle is the 2oz size from the Container Store. I get many of my leakproof containers and bottles there, as well as some of my dropper bottles! The smallest one is from a Bobbi Brown Empties set that I mention on my Travel Hints and Tips page. I usually have at least two sets of Empties on hand because I love them so much! They don't leak, are very sturdy and anything I put into the mini jars doesn't dry out. I just wish she would make a mini spray bottle too. Oh, and yes I am a bit OCD and have a label maker and try to find any excuse to use it!
Fresh Rose Marigold Floral Water ingredients:
Rosa Damascena Flower Water, Butylene Glycol, Chlorphenesin, Tetrasodium Edta, Methylparaben, Citric Acid, Citronellol, Geraniol
Boscia Balancing Facial Tonic ingredients:
Water, Diglycerin, Maltitol, Sodium Cocoyl Glutamate, Methyl Gluceth-10, Potassium Cocoyl Glutamate, Tea-Cocoyl Alaninate, Butylene Glycol, Potassium Lauroyl Glutamate, Simmondsia Chinensis (Jojoba) Leaf Extract, Epilobium Angustifolium Flower/leaf/stem Extract, Rosmarinus Officinalis (Rosemary) Leaf Extract, Hydrangea Serrata Leaf Extract, Camellia Sinensis Leaf Extract, Glycerin, Cellulose Gum, Sodium Hydroxide, Pelargonium Graveolens Flower Oil