I'm on a NO BUY until at least May 20, but it will probably be even longer for details that will be explained in a later post! I was able to sneak my way around it because of my AWESOME husband!! He's a Flight Attendant too, and I do most of our scheduling work to make sure we can do things like have certain days off. This month I worked some extra magic so he could have some man vacation time...and...as a thank you...he let me have a skincare makeup spree!! Yay!! :-)
I'm expecting one more item from another store but here's what came from Sephora: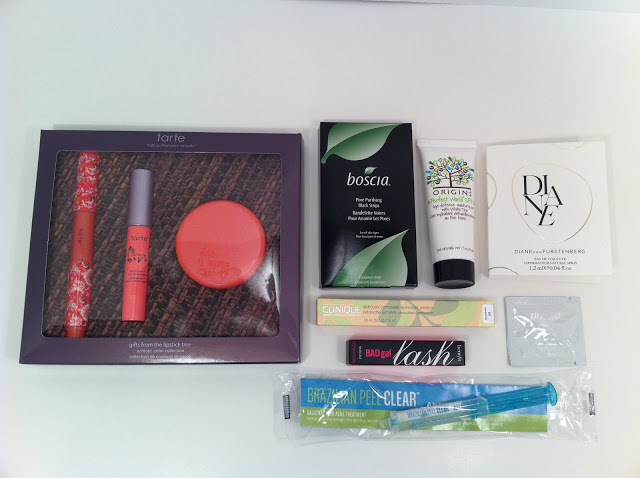 * Tarte Gifts From The Lipstick Tree Achiote Color Collection, $42 @ Sephora
* Boscia Pore Purifying Black Strips, $15 for box of 6 @ Sephora or www.bosciaskincare.com
* Origins A Perfect World SPF 25 moisturizer
* Clinique Airbrush Concealer, $19.50 @ Sephora and department stores
* DVF edt sample
* Benefit Bad Gal Lash mascara deluxe sample
* Bosica Enlivening Amino - AG Eye Treatment sample
* Brazilian Peel deluxe sample.
Sephora was doing a promo for Earth Day...if you brought in an empty skincare or makeup container they gave you the choice of one of 2 Origins moisturizers. Maggie told me about the promo and had received the other choice - I got her this one to try (online you entered a code for it) since both have ingredients that clog my pores.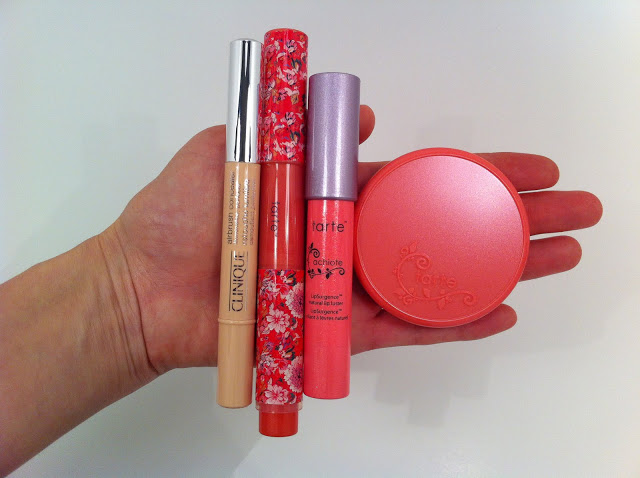 Out of the box: Clinique Airbrush Concealer, Tarte Achiote Color Collection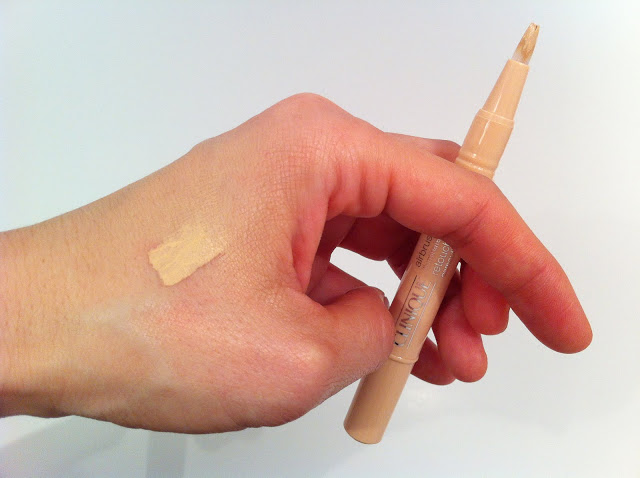 Clinique Airbrush Concealer in Neutral Fair. There are only 3 colors to choose from and this is the middle color. This is described as being a "creamy, light concealer that brushes on to brighten, perfect, and soften the look of fine lines and wrinkles". Lisa Eldridge uses it quite a bit, and you know how much I love her and what she does so that's mainly why I wanted it! Ha ha!!
It is super lightweight, and despite the color looking somewhat too light it seems to blend out really well. The swatch above is actually twice the width, but I blended out the right side to show you how well it kind of melts into the skin. Used it last night for the first time. That was only for a few hours though so we'll need to see how it does on an 11 hour work day up in the metal flying tube!!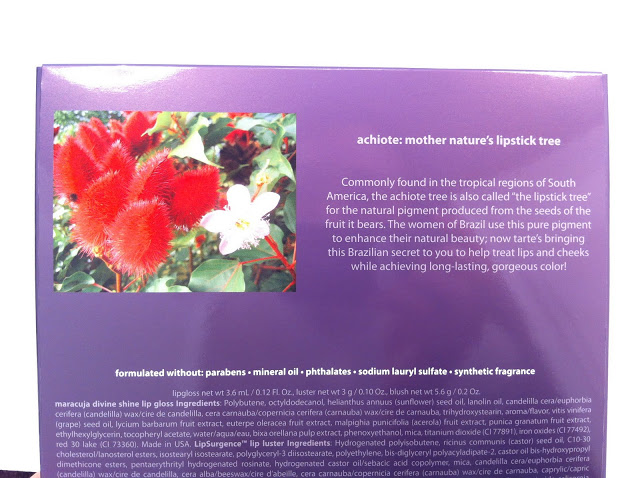 About the Tarte Gifts From The Lipstick Tree Achiote Color Collection...
Commonly found in the tropical regions of South America, the achiote tree is also called "the lipstick tree" for the natural pigment produced from the seeds of the fruit it bears. The women of Brazil use this pure pigment to enhance their natural beauty.
That sounds so...magical...
LOL!! Ok that's marketing at it's best, but I'm a sucker for marketing so into the shopping cart it went!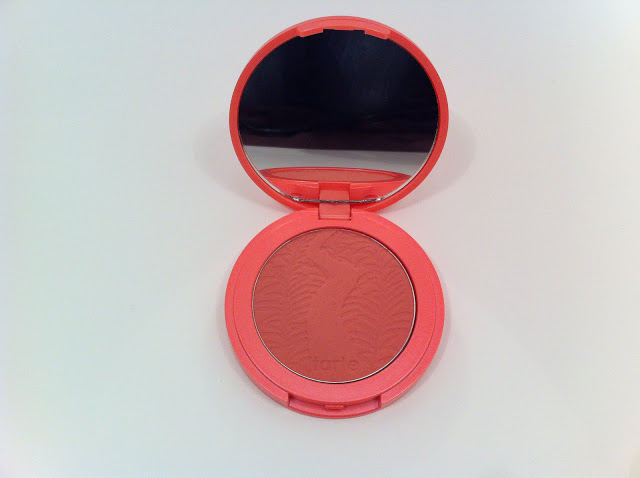 Tarte Amazonian Clay 12-hr Blush in Achiote. I've never tried one of the Amazonian Clay blushes, so I'm very excited to try this one out. I love that the packaging is so slim...fantastic for travel which is why I absolutely love NARS blushes - one of the slimmest blush containers you can find. I like the little imprint too...cute little touch...but...uuuuummmm...what's it supposed to be? The Amazon River maybe? With big leaves around it?? Weird.
The color seems to go on fairly light, but is really buildable. Call me crazy Lucy, but this is a really pretty color on my skin tone and I dunno...I might love it??!!!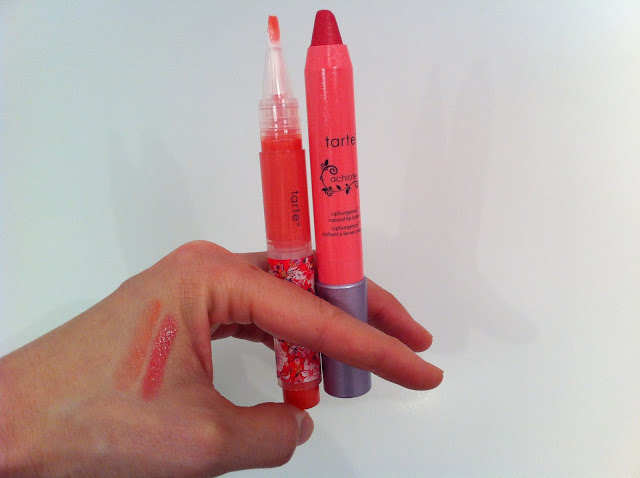 L-R: Tarte Maracuja Divine Shine Lip Gloss in Achiote and Tarte Lipsurgence Natural Lip Luster in Achiote, swatches in same order also.
The color in general is really pretty. I only wore this to a Target run and dinner...wonder what it will look like in the daylight!!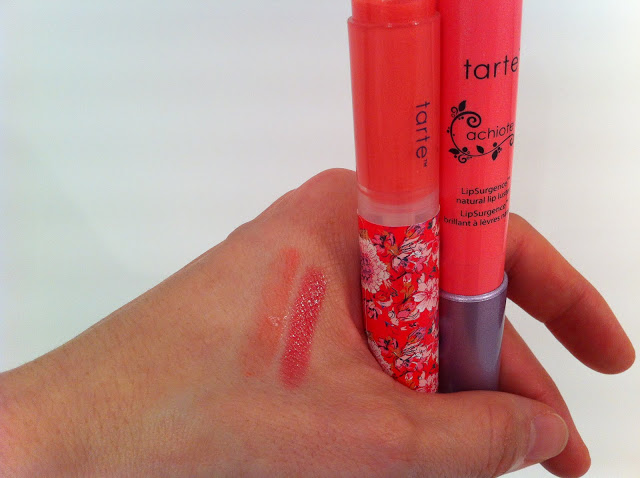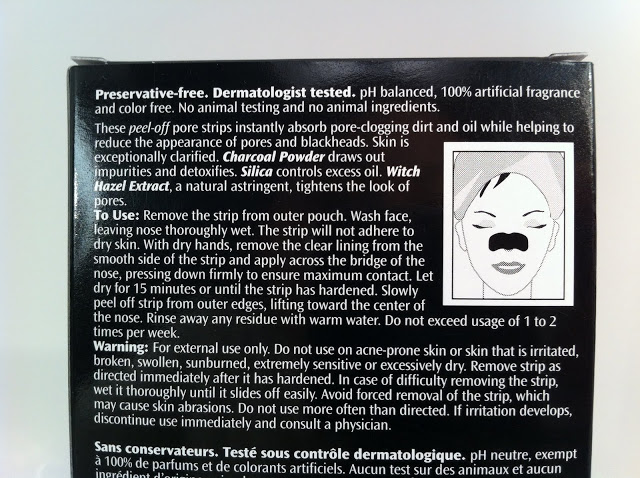 Boscia Pore Purifying Black Strips.
Oh, please don't pass out on me while you are having terrifying flashbacks of those Biore Pore Strips or the DIY ones from YouTube!!! C'mon...breathe...
Who knows. ALL the reviews claim THESE ones are different. Of course they are!! Jury is still out, but I'm kind of excited to try them.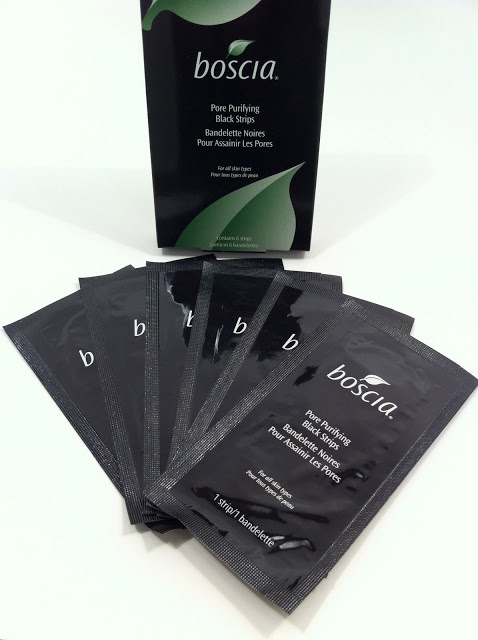 Have you guys tried any of these products? What do you think of them?