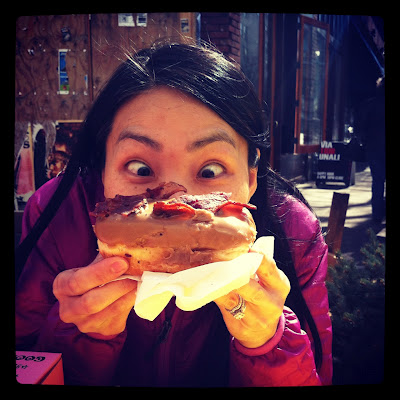 So I finally joined the popular kids and signed up for Instagram! And...drum roll please...this is my very first Instagram picture...TA DAAAAAA :-) This was taken in Portland at the infamous Voodoo Doughnuts! Maple Bacon, at your service.
Um, what's this got to do with skincare??? Nevermind that I'm eating a butt-load of sugar, white flour and grease that's probably doing amazing things for my skin. More importantly, do you notice how I'm covering up half of my face with the monster dognut?! This was taken about a month ago, and I'm in month 7 of recovering from a huge, multi-month-long chin breakout. When the picture was taken I remember thinking...ew...that's kinda close...I need to cover this sh@! up in case I want to show anyone later.
Dang. How awful. No matter how good the rest of my face looks I still am very self conscious about my spots. So I don't know. I suppose I just wanted to share some frustration and group misery...we do love company! Ha ha!
Do you have any similar stories?
And on a side note...yes I did call it a DOGnut...it's a bit my husband and I always do! Lololol!!! Feel free to borrow :-)
While we are talking skincare, why is it so much fun to find new products and see what other people use?!! I unashamedly admit it makes me giddy!!
About a month ago, Lisa Eldridge posted a video about her French Pharmacie Skincare Favourites. She shows not only some of her favorites, but also a few new things she wanted to test out. I love it!! Definitely discovered a few items I want to try as soon as I'm off my no buy!!!