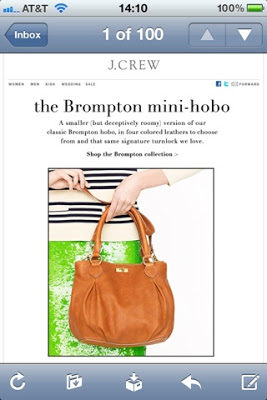 I received this J. Crew email a few days ago and was so excited I think I might have let out a girly little scream. Over a handbag?? Um...yes :-)
To preface, I've never been one to spend much on handbags. I worked at Coach forever-and-day-ago and spent around $150 (with my discount) on a tote. That was the most I had ever spent on a purse until recently. Skincare, makeup...I'll spend...but on a purse? No way. As my Husband says, everyone has their thing!!
Around October my Old Gravy - ahem, I mean Old Navy- pleather purse I had been carrying for a couple of years finally started showing signs of wear and tear. I looked and looked for a replacement, but nothing in my $100-150 price point was catching my eye. Finally, I was shopping with my good friend and her daughter at J. Crew right before Christmas and it was all over. I spied their Brompton Hobo bag, tried it on multiple times and was smitten!! Oh AND it was 30% off for a pre-Christmas sale. Woooot!!
I still wasn't sure if I should buy it because even at 30% off it was over $200. I didn't know if I could bring myself to spend that on a purse, but I also couldn't stop thinking about it. My husband drove me to the mall the next night and I got it! I reasoned that at 36 years old, I've worked hard enough to buy myself a nice handbag :-) Here she is...!!
And boy do I love my Brompton Hobo!!! It's pretty and soft and functional and has a style that's classic with just the right amount of trend. It can store a crapload, but isn't bulky or overpowering. I love having the double handle option or shoulder strap. It has one open compartment which can be semi closed with the turn lock. There is also a smaller zippered compartment, as well as a cell phone and an inside zippered pocket.
Now you know why I am so excited about the mini!!
If you do find yourself in the market for a new handbag anytime soon, check out the Brompton Hobo, $298, and the Brompton mini-Hobo, $258, at J. Crew. Oh c'mon...at least try it on :-)