The Aurora from Terje Sorgjerd on Vimeo
The images in this video are so stunning and beautiful. I find myself in awe of how they might look in real life, standing under the canopy of the open skies. This aurora borealis was shot in and around a national park bordering Russia. Has anyone had an experience like this...I would love to hear about it!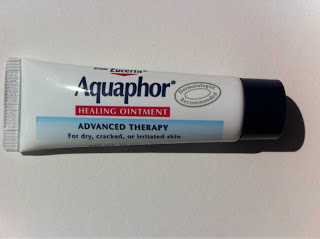 Item of the Day!! Eucerin Aquaphor Healing Ointment, approx. $6 for 2 small travel tubes @ drugstore.com, Target and other drugstores (drugstore.com has it listed as Aquaphor Baby to Go but it's the exact same product as the regular Aquaphor healing ointment found elsewhere).
I count on Aquaphor for 1001 uses!! Ok, slight exaggeration but I do count on it for an awful lot:
*Lip balm
*For my cuticles
*Use on extra dry patches on face & body
*Brow tamer
*Wound healer & scar reducer instead of neosporin or polysporin
*If I'm feeling super dry under my eyes I'll apply a very thin layer over my eye cream at night
*This is a HUGE beauty no-no, but I am a confessed sometimes picker. Gross! Bad for your skin! But I just cannot help it sometimes. So after I have tormented my skin and popped a pimple I apply salicylic acid spot treatment and layer a glob of Aquaphor on top - every night until the mark disappears. I prefer Aquaphor to other ointments because it is thicker and stays on overnight without having to put a bandaid on my face. I sleep on my back though and never have my face squished against a pillow - hello wrinkle reducer! - so this may not work for everyone. This technique has drastically reduced my healing time, as well as the dreaded red spots and/or scarring.