I made an extra effort this month to use up samples! I didn't get through as many full sized products, but will have more for next month. I am most excited about using up the 2 fragrance samples, as I usually seem to collect them rather than trying them out. The strategy I employed was this...for every trip I went on I had to take at least 2 samples!! And it worked!
Top row, L-R:
* Tatcha Original Aburatorigami Beauty Papers - I loved that these blotting sheets were so big!! But I didn't find them more effective than my Boscia Blotting Linens, and actually prefer the Boscia ones. They are both made from abaca leaf, but the Tatcha ones seem to be thinner and not as sturdy. For as significantly larger in size that the Tatcha ones are, I still had to use 2 papers to completely blot out midday oil. I use 2 Boscia linens, but they are around 1/2 the size and much cheaper. Tatcha is 12 sheets for $30, while Boscia is 100 sheets for $10. Huge price difference, plus with the Boscia being smaller in size they are easier to carry in a makeup bag or purse pocket. I won't be purchasing.
* ReVive Moisturizing Renewal Eye Cream - I squeezed this entire packet into a tiny container and it lasted almost three weeks, using it at least once a day and many times I used it both AM and PM. I liked it, but I still didn't love it nor find it as effective as my beloved Shiseido Benefiance WrinkleResist24 Intensive Eye Contour Cream. It was moisturizing without being greasy, and I think anyone with normal to slightly dry undereyes would find this more than suitable. It's supposed to retexture and renew the eye area without irritation, though I didn't use it long enough to see any difference. Did I mention it's $130 for .5 oz. Ouch. No, I won't be buying this anytime soon, especially when I love my Shiseido so much!!
* Nuxe Gentle Exfoliating Gel - Honestly, if you need THIS gentle of an exfoliation, you probably shouldn't be exfoliating in the first place. I felt like I was only washing with cleanser, and a very gentle cleanser at that. Definitely not for me and I will not be purchasing.
* Kate Somerville ExfoliKate - I used up a sample of this last month and still think the same...I absolutely love this stuff and think it's one of the best exfoliators I've ever used. After using this product for a couple of years I strayed off to try other things, but I am so glad for these samples the last couple of months because I'm baaaaaaack!! I have since purchased several tubes, but I get the .5 oz ones for $19 because they are much easier to travel with. I've tried getting the larger tube and then decanting into a travel bottle, but for whatever reason I find it dries out a smidge and it's difficult to get all the product out of a travel bottle.
Bottom row, L-R:
* L'Occitane Milk Concentrate - OMG this smells amazing!! This little packet was almost enough for my entire body...I found it to be silky soft and hydrating...felt like it just melted into my skin. It was super moisturizing, too!! I'll definitely be purchasing at some point!
* Ko Denmark Body Lotion - I liked this but not as much as the L'Occitane Milk Concentrate. I found the fragrance lingered a bit too much, especially when I wasn't in love with how it smelled. This was very moisturizing, but I found it a little greasy even after it soaked in. Will not be purchasing.
* L'Occitane Shea Butter Hand Cream - I remember using this a long time ago and for whatever reason deciding I didn't like it. I was reluctant to try it again, but forced myself to give it another go. I don't know what the heck I was thinking way back when...but I LOVE THIS STUFF!!! It's so amazingly moisturizing, and I find it's subtle scent addicting - fresh, clean, milky...I'm not quite sure how to describe it but I want it on my hands all the time! Ha ha :-) I have since purchased a couple of tubes already.
* Skin Beautiful Triple Action Vitamin C Serum - review here.
* Diptyque Volutes - I'm completely useless in describing perfume/cologne fragrance, so I'm not even going to try. But here's the description from the Diptyque site:
"The voyage of your dreams, on board a liner from Marseille to Saigon. A long haul crossing, stopping off at a number of places with magical names, all redolent of adventure and spice. The charm of life on board ship, where time does not exist. The labyrinth of polished passageways and the panelled walls of the lounges, the enigmatic elegant women leaning on the rail on top deck, indulging in the pleasure of Khedive cigarettes. A smell forever imprinted on the memory: Volutes"
Yeah, OK...so I'm not sure exactly what that is supposed to smell like, but...I really, really like it!!! I'm not sure I'm in love but I like it enough to purchase it (I found the more I wore it the more I liked it). What's amazing is that my husband really liked this too, and that is a magical feat since we almost never agree on a fragrance I would wear.
* Hermes Terre D'Hermes - Ok, so I fess up...my husband helped me this month and I am so happy because it finally dawned on me to use him as a future source to use up products!! The description on this one from Nordstrom:
"A narrative of alchemy: a journey through the elements of earth, air and water. An eau between earth and sky; built upon strength and poetry. Woody, vegetal, mineral."
We both loved this one and it's now on his Christmas Wish List!!
Top row, L-R:
* Phyto Phytocitris Shampoo - I've tried several Phyto products now, and I just don't like the smell. And for whatever amazing things their products are supposed to do for your hair I simply cannot get past the smell!! It's that heavy, almost medicinal smell that reminds me of home hair perms. Not purchasing!!
* De-Luxe Rosemary Mint Shampoo and Conditioner - looooved the smell!! Smelled exactly like the Aveda Rosemary Mint line. I didn't find these samples that effective though. I thought the shampoo left my hair a bit stripped and the conditioner didn't do much to restore what the shampoo removed. Will not be purchasing.
Bottom row, L-R:
* Sachajuan Hair Repair - I wasn't crazy about this smell either, but I don't remember it being remarkable enough to purchase. It felt like I was just using regular conditioner. Will not be purchasing.
* Keratase Masque Substantif - Again with the smell!! UGH. Besides that this didn't leave my hair feeling very moisturized. Will not be purchasing.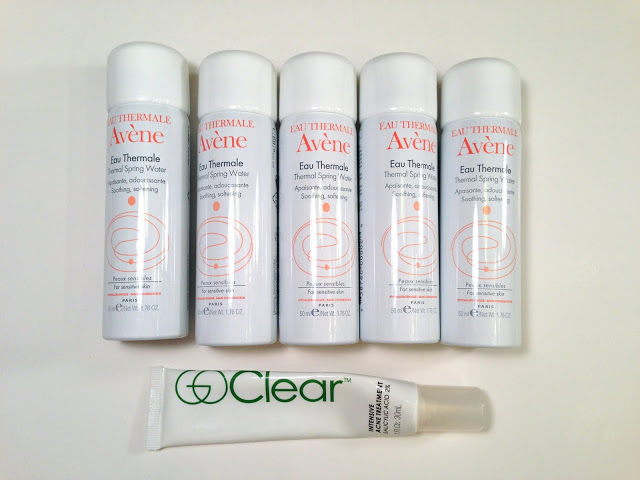 * Avene Thermal Water - I've been experimenting with skipping toner and just spraying with the Avene. I'm trying to be more delicate with my skin and am trying to lay off using so many actives at the same time...my skin seems to be better when I do this! I love this thermal water and always have one with me!
* GoClear Intensive Acne Treatment - Sephora used to carry this brand, but like so many others at Sephora lately it's been kicked to the curb. This tube lasts me forever (luckily I have one more tube that I just opened up that I purchased before it was not available at Sephora anymore). This has 2% Salicylic acid and is supposed to have some sort of delivery mechanism which allows it to be released steadily throughout the day. It's not drying, and wears well under makeup.
Yay for empties!!! :-)