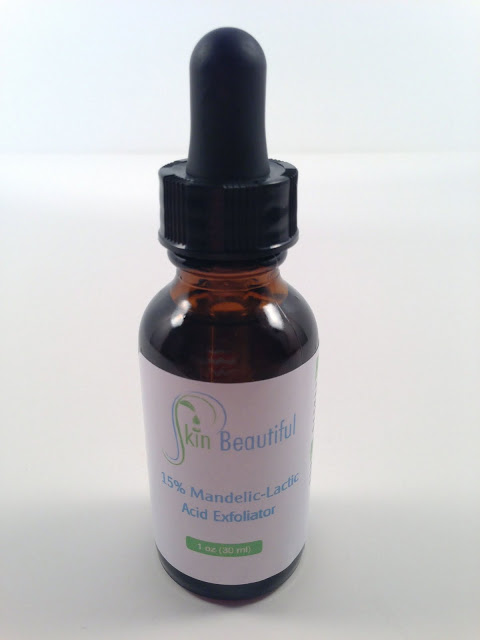 Skin Beautiful 15% Mandelic-Lactic Acid Exfoliator, $44.95/1oz and $5 for 5ml sample @ Skin-Beautiful.com
This is one of my staple products and has been in my routine for quite awhile (at least a year? maybe longer...). It's a very straightforward product with very straightforward ingredients - distilled water, 10% mandelic acid, 5% lactic acid and organic grape alcohol.
This is the first straight up acid product I've ever tried, so I don't know how well it compares to similar products. I chose to look into mandelic acid after being on the MakeupAlley Skincare Board and seeing it mentioned there many times as a good exfoliator, and being able to help with acne and pigmentation issues.
While I do occasionally love a manual scrub such as Replenix Fortified Exfoliation Scrub or Kate Somerville's ExfoliKate, I don't think they beat the multipurpose effects of chemical (acid) exfoliation. Manual scrubs are great for surface exfoliation and other surface issues, but acids can go deeper and help to get to the root of problems such as clogged pores and pigmentation.
Skin Beautiful's 15% Mandelic-Lactic Acid Exfoliator is one of the main products I depend on to keep my pores clear and blackheads away. When I do get blackheads, it's always after a time when I haven't been as consistent and vigilant about using this product. This also keeps the texture of my skin very smooth and exfoliated - when I wake up in the morning I can tell the difference between my eye area where I did not apply it and the rest of my face!
While I did see a slight decrease in the hypopigmentation on my cheeks, the biggest difference I see on a regular basis is in the lightening of spots from acne marks. This helps to dramatically speed up healing time - instead of months and months and months...oh and months of seeing minimal change, sometimes I have marks gone in a couple of weeks (if it's very minor) to only a month or 2. I do use many products that seem to speed up healing time for acne marks, but this by far makes the greatest difference.
The consistency is like that of water. You can use a cotton pad to apply, but I find too much product gets wasted. Instead I drop about a dime size into the center of my cupped hand (any more and it tends to run away like water!) , and then use my fingers to apply...repeat until I've covered my entire face and neck. You are supposed to wait 5 minutes before applying other product so the pH isn't neutralized and the effects diminished.
Also note this is an acid!! It tingles only very slightly on me, but if you are sensitive to stronger products you may want to proceed with caution. Please be careful not to try to use this every night from the beginning. And I only use this at night as the lactic acid can cause sun sensitivity. Start out with twice a week for at least 2 weeks, then 3 times a week for 2 weeks, then daily if you would like. It's very important to step up slowly...you don't want to cause an adverse reaction because of impatience.
At one point I was using this every night, but found it was actually too much exfoliation and my skin retaliated with redness, sensitivity to the touch and my broken capillaries were more pronounced. Now I only use it twice a week, sometimes I'll use it every other day if I'm feeling my skin needs a boost or I'm having a bad hormonal acne breakout. And the nights I use this I do not use my vitamin C serum...only this product and moisturizer...I find my skin doesn't fare well with too many actives all at once. Oh, and sometimes I use this as a spot treatment (every night or every other night) if I have a particularly stubborn mark that doesn't seem to want to budge.
Bottom line: AWESOME product!!!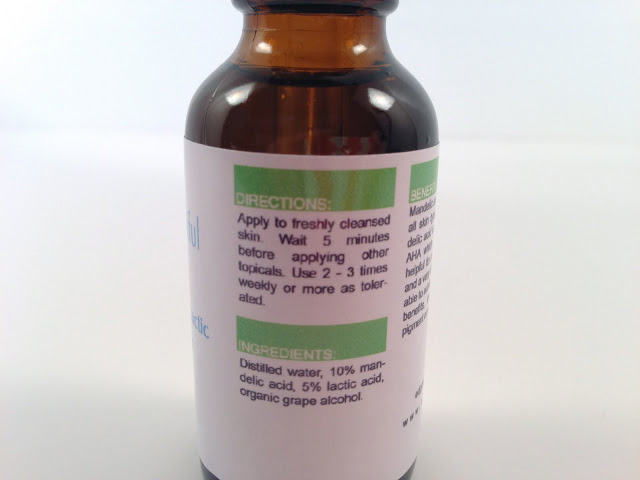 For some nitty gritty reading, this is from the Skin Beautiful site:
Simultaneously target aging, pigmentation, blemishes and blackeads with a single exfoliator!
This simply-formulated, residue-free formula contains 10% mandelic acid and 5% lactic acid for a total of 15% alpha hydroxy acids (AHA) -- all at an extremely effect pH of 2.5.
Mandelic acid has a larger molecular size than traditional alpha hydroxy acids (AHAs) and is therefore excellent for those who desire a stronger exfoliator but find glycolic acid just too irritating. Mandelic is thus often touted as a good AHA for those with sensitive skin.
Mandelic acid is the only alpha hydroxy acid that can penetrate and therefore unclog pores. It also possesses antibacterial action which further aids in the prevention of acne. Last but not least, mandelic acid is very effective for correcting hyperpigmentation, making it the acid of choice for those suffering with age spots, sun damage or melasma as well as acne. Mandelic Acid is also a good choice for rosacea as it is less irritating than other AHAs, but is still able to combat blemishes.
Lactic acid is a naturally ocurring AHA which is particularly gentle and thus often used to effecftively treat mature skin. Lactic acid is also a humuctant, meaning it helps draw moisture to the skin. This makes lactic acid ideal for very dry skin types who still want to benefit from an effective exfoliator.
The low organic alcohol content of this formula will not irritate most skin types, but ensures that this formula will penetrate pores (alcohol is one of the best, natural penetration enhances available), working deeply within the skin to acheive the highest possbile results.
Because mandelic and lactic acid are both much gentler than glycolic acid, it is possible to use a high percentage of AHAs in this product without causing irritation. In fact, with a total of 15% AHAs and an extremely effective pH of 2.5, this exfoliator has a free acid value that is able to achieve the highest of skin rejuvination benefits, including: smoother, softer skin with a significant increase in glycosaminoglycans (GAGs) and improved moisturization, significant increase in squamous cell turnover with a significant increase in GAGs, significant increase in collagen deposition along with thicker, less fragmented elastic fibers, and a more uniform melanin (pigment) pattern and reversal in basal cell atypia. All this in addition to controling blemishes and minimizing pore size!