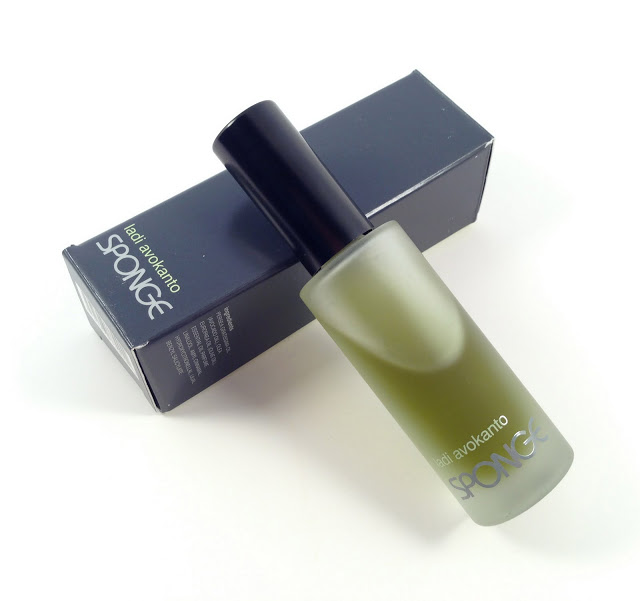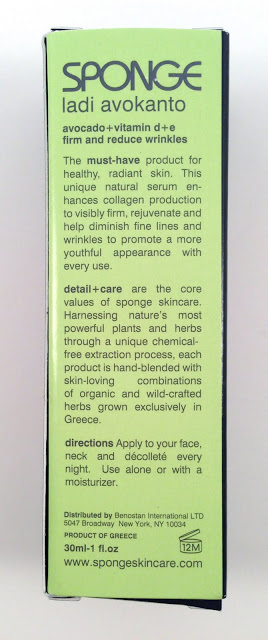 In the race of high end and luxury face oils this one is a top contender. The company uses organically grown herbs, and also maintains non-chemical processes to extract their plant essences. They tout products that leave no greasy residues, but instead embrace soft, clean and healthy skin. Here are the ingredients for the Ladi Avokanto: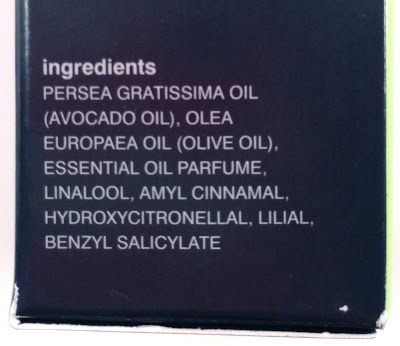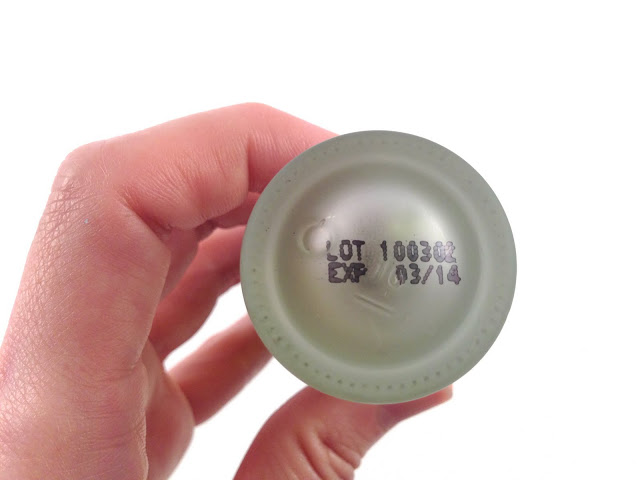 Each bottle is also stamped with an expiration date.
I found this a little difficult to work with. It's a heavier oil than any I've ever tried. The first few times I used one full pump and found it didn't sink in very well - even after I sat for many minutes rubbing my hands together and then patting them to my face to allow the heat to help things along. No go. Finally I tried using less, which meant decanting into a much smaller dropper bottle. I don't mind a pump if it's one you can control, but with this one what you squirt is what you get!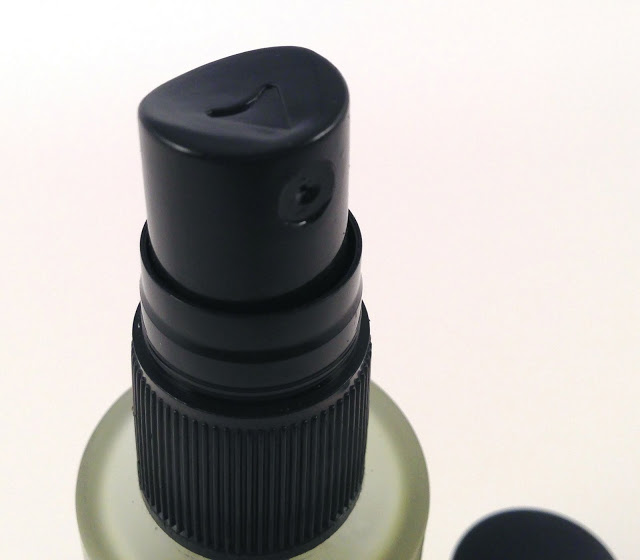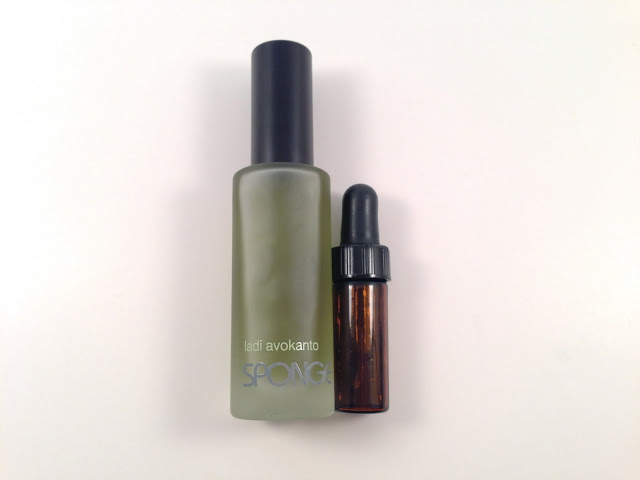 Here's the small dropper bottle I put the product into. I think this is a 1/4oz dropper bottle...I buy these (and other various dropper bottle sizes) off Amazon and always have some on hand for such a purpose. Plus they are great for traveling! Word of caution if you use anything less than a 1oz dropper bottle: they have a tendency to tip over so I highly recommend holding it in your hand while you dispense the product to avoid an OMG-I-can't-believe-I-just-did-that moment. Yes I speak from one too many experiences! Ha ha :-)
From the dropper bottle I would use 2-3 drops and rub my hands together vigorously until they were almost hot and then press them to my face and neck. If it didn't all sink in the first time I would rub my hands together again repeat this process until I felt it sank in enough. I concentrated application on my drier areas and only lightly patted my oily areas with what was leftover after application to the rest of my face. Oh, and using only 2-3 drops per application would mean this bottle would last a very long time.
This is one of the few oils I've tried that doesn't leave me glowy. It doesn't leave me matte either, but instead leaves my skin looking fresh and natural. It managed to make my oily areas slightly less oily while still getting rid of the underlying dryness on my super dry areas. I did still need to layer moisturizer over these dry areas, but I always do that anyway. It's just that I've had a very difficult time finding something that gets rid of that under the skin dryness that you can't always see but that I can usually feel. I was surprised at how it helped heal a couple of healing blemishes, and those spots seemed to lighten more quickly than normal.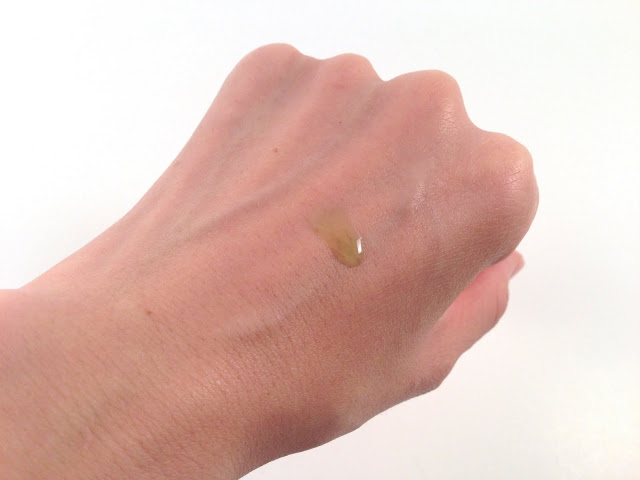 I used this product for 2, 2 week periods. Toward the end of the first 2 week period, something started breaking me out in areas I don't normally. I had recently started using the Ladi Avokanto and a newer toner. I thought it was just the toner but went ahead and stopped using both until I cleared up. Since I suspected the toner, after I cleared up I only started back up again with the Ladi Avokanto.
However after a couple of weeks it irritated my skin something awful. It almost was as bad as the time I tried straight Tamanu Oil and had to wear cortisone cream all over my face for a week. In hindsight I should've just spot treated with the Tamanu or mixed it with another oil or added a few drops to a moisturizer, but now I'm too scared to try it again. But I digress...
I think the Ladi Avokanto was a little too heavy and occlusive for my skin, especially given how reactive and sensitive it's been over the last year or so. But for the couple of weeks prior to my reactions I did quite enjoy it! It smells soothing and earthy and avocado-y and I would really look forward to patting it onto my face just so I could inhale the calming scent. I very much appreciated how it made my oily areas less oily...the fewer blotting papers I have to use during the day the better.
Later down the road I might try this again by adding a drop or 2 to a moisturizer rather than having it sit directly on my skin and layering moisturizer on top. If I do and have different results, I will be sure to update! Until then, it's on the back burner.
If you do try this I would HIGHLY recommend trying a sample first!!
Oils are so individual, but when you do find one (or if you are very lucky more than one!!) that works for you then it generally becomes a no brainer beauty staple, or something you come back to time and again. I'm still hunting...so if you have any suggestions I'd love to hear them :-)