I do quite a bit of online beauty shopping, and readily admit my big ol' soft spot for well thought out, beautiful packaging!! I recently ordered my first Tatcha item, the Classic Enzyme Rice Powder ($65/2.1oz @ Tatcha and Barneys). With each order you receive three free samples. Then I signed up for emails, and also received a code for a deluxe sample packet.
This package is probably one of the most detailed and beautifully packaged purchases I have made lately. It's amazing how so much attention went into presentation.
Underneath the taped tissue is a letter of sorts, containing my order summary, customer service information and a nice little note!
The paper is not standard issue...it has these little lines of texture.
The note seems as though it's hand written, or I'm just easily fooled. Ha ha!
Below the note is the Classic Rice Enzyme Powder I ordered, along with the ribbon and tissue wrapped three sample choices. I love all the tissue used instead of the standard butcher paper or plastic air pocket padding.
Below the product is the VIP Sampler Packet, and a booklet telling the story of Tatcha.
As if that wasn't enough, all of that is additionally padded with bubble wrap :-)
All the contents of the box.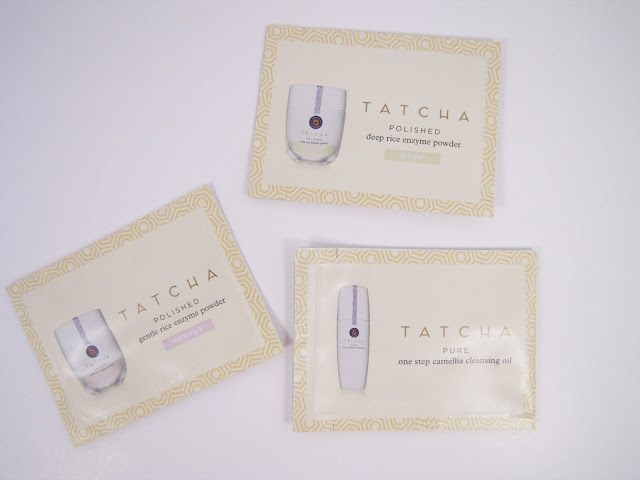 The three samples I chose: One Step Camellia Cleansing Oil, Gentle Rice Enzyme Powder, Deep Rice Enzyme Powder.
The VIP Sampler Packet containing a sample of each product they offer, including the famous Aburatorigami sheets. Also included is a paper listing usage directions for each sample.
Here is the booklet telling the story of Tatcha and the philosophy behind the products, along with some beautiful photos.
I'm super excited to try the Classic Enzyme Rice Powder for the first time tonight...and so my journey begins!! Have you tried any Tatcha products?