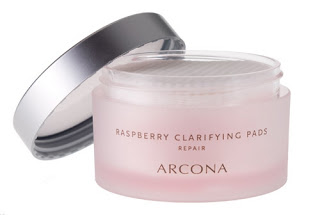 ARCONA Raspberry Clarifying Pads, $32/45 pads
Who it's for: those who need help with a little extra exfoliation and combatting current and future breakouts.
Where you can purchase: arcona.com, skincarerx.com, beauty.com, skinstore.com
Ok...these puppies smell REALLY good...light and refreshing with a slight berry scent!
The pad itself is smooth on one side with a slightly gritty texture on the other. I don't find the gritty textured side irritating at all, and feel as though it helps exfoliate and really work the product into my skin. The first few pads of every jar are not as soaked with product - the further into the jar you go, the more drenched they get. But the first few pads are not at all dry, and do have enough product to get the job done.
At $0.71/pad these are expensive. I've read a ton of reviews suggesting you can cut these in half to last longer, but I use them on both my face and neck and don't find 1/2 a pad is nearly adequate. With 1/2 a pad you *might* get one swipe's worth all over your face, but I like to go over my skin until the pad starts to feel dry. This usually ends up being around 3 times all over, or at least twice and then with additional passes throughout any problem areas such as my T-zone.
Expensive, yes...but I've been using these for almost a year (last couple of months trading off with the ARCONA Tabula Rasa Pads) and feel the price is worth it for the results. I also don't mind paying a little extra for something that is travel friendly, and I love the fact I don't have to carry around a liquid + facial cotton!! Also, most of the retailers I listed often run sales and you can also go through ebates or mrrebates to get a % back of purchases. They also do free shipping over a certain price...oh...and no sales tax :-)
To the good stuff...
The product description says this can be used to cleanse/tone, but I prefer to use this just as a toner - applied after removing makeup and cleansing.
I do have dry to very dry cheeks, forehead and under my jaw, yet these do not dry out my skin at all (I believe this is due to the witch hazel). The pads cut through any residual oil on my T-zone, as well as remove any last tid bits of makeup left over from cleansing.
In addition to the witch hazel, these pads contain 1% salicylic acid, tea tea and totara extract, raspberry extract, vitamins, phytonutrients and flavonoids.
I very rarely get blackheads now, and these help keep my skin texture super smooth. I feel these help heal my breakouts and blemishes, yet do not make these areas flakey or dry. Plus I love getting the extra dose of vitamins and stuff that is left to get layered under moisturizer!!
ARCONA Raspberry Clarifying Pads Ingredients:
Hamamelis Virginiana (Witch Hazel) Water, Alcohol Denatured (Ethanol), Salicylic Acid (1%), Polysorbate 20, Rubus Idaeus (Raspberry) Fruit Extract, Rubus Idaeus (Raspberry) Seed Oil, Totara Extract, Eclipta Prostrata Extract, Melia Azadirachta Leaf Extract, Moringa Pterygosperma Oil, Melaleuca Alternifolia (Tea Tree) Leaf Oil