I loved this dress from Zara and wanted to expand upon the neutral w/ a twist idea.

FUN!! This is my first attempt at Polyvore! I've been to the site many times admiring the handiwork and imagination of others, and I finally joined and gave it a go :-) There are just so many things to choose from, add, delete, resize, backgrounds, and on and on...makes my head spin but in a very Dead or Alive, "you spin me right round baby, right round" kinda way.
Yes I do really love this dress from Zara. It looks soft, comfy, feminine...yet the shorter length makes it seem young and lighthearted. The Jem song "I Always Knew" is one of my favorite songs and it aptly describes this woman as the lyrics go:
I always knew I would one day be here...
You might think you know this woman, but guess what...she punches it up and will surprise you when you least expect it.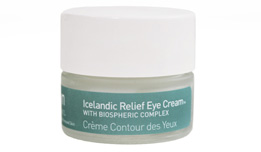 Item of the Day!! Skyn Iceland Icelandic Relief Eye Cream, $45/.49oz pot or $20/.14oz pen @ Skyn Iceland and Sephora
This little powerhouse is filled with Vitamin K, rice peptides, orange peel, cotton powder and icelandic kelp. These ingredients help with fine lines and puffiness, while also giving an extra dose of antiaging benefits. On contact this gel-like cream feels like a cool drink that instantly moisturizes and helps refresh tired, puffy eyes. I like to apply it midday to give me an extra boost. And you don't need much...as they say...a dab'll do ya'! So even though the pot seems small it should last you at least a couple of months of morning/night usage.