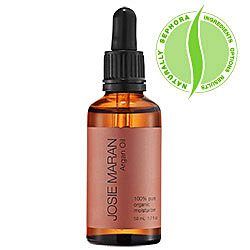 I read about argan oil from MakeupAlley on a post where someone was looking for a natural moisturizer but had acne prone skin. First of all if you have never visited MakeupAlley - DO IT NOW!!! I've spend many an hour on this site reading product reviews and purusing the different chat boards, mainly Skincare, Fitness and Fashion. Awesome site!!! Secondly, I don't necessarily have acne prone skin anymore but I do get blemishes. They've decreased significantly over the past few months...thank goodness!! The ones I still get can usually be avoided by using a spot treatment as soon as I feel a blemish coming on...if anything becomes a full-blown blemish it seems to heal within a few days as opposed to a few weeks.
I've been using Josie Maran Cosmetics Argan Oil. There are other brands and no name argan oils out there, but this one is readily available at most Sephora stores and you can return it if you don't like it (which is generally why I shop for most of my skincare and makeup at Sephora). Soooooo...here's the description off the Sephora site:
Josie Maran Argan Oil is a legendary oil that's rich in vitamin E and essential fatty acids, and grown organically in Morocco. Argan oil is known to have many treatment benefits, including hydrating and nourishing skin, as well as toning and firming. It's gentle enough to use on all skin types and is believed to help with skin conditions including acne.
I read all the reviews on MakeupAlley and Sephora. I also did a little web research and finally decided to give it a try. The small size is only $14 so I bought one for me and Dave (aka, my man-friend/significant other/boyfriend/lover/best friend/best mashed potato maker ever). I purchased this for myself because every cream, lotion, mask, potion, and magic spell I had tried was simply not hydrating enough. I've tried La Mer Creme, Kate Somerville Deep Tissue Repair Cream, Korres Yogurt Mask, Caudalie Moisturizing Cream Mask Face-Eyes, an Aveeno moisturizer that I can no longer find, plain mineral oil, a few others who shall remain nameless at this time - and that's all just been in the last year. One or another might work for awhile but then seemed to just sit on top of my skin and not get absorbed. Others simply were OK until I found something else. Plus it's been so hard to find something that would work for my oily nose and chin.
Dave needed a simple moisturizer that would also help the flakes on his nose. Not sure if it's some kind of dermatitis or what but nothing seems to help much. We were both on a mission. Maybe not. I was on a mission to find something suitable for both of us!
This oil is so lightweight and sinks in immediately. It's not greasy contrary to what you might think. The reviews kept mentioning an earthy odor, but neither of us have noticed any bad smells. So far Dave and I love this stuff!! It has really helped with his flakes...he uses Head and Shoulders in the shower on his flakey spots and then moisturizes with the argan oil - hardly a flake to be found. Plus his skin looks really good...plump...glowy...and that's saying something for a guy. Ha! This stuff really helps to balance me out...I'm actually less oily on my chin and nose and my dry areas seem to stay more and more hydrated as time goes on (I started out putting this underneath the First Aid Beauty Ultra Repair Cream and now I only dab the FAB on a couple of spots). And I dare say...so far this has helped lessen the frequency and intensity of my blemishes.
The only negative so far as that I could not use it around my eyes (Dave uses around his eyes with no problem though). The first week was ok, but then I started getting tiny, red spots/pimples. So now around my eyes I am only using Shiseido Benefiance Anti-Wrinkle Control Cream and for daytime I add Bioderma Photoderm Max Fluide SPF 50+.
As a side note, I really did love how the Kate Somerville Deep Tissue Repair Cream made my skin look...simply...radiant!! Though not quite moisturizing enough for my dry areas, I will probably try this again at some point with argan oil layered underneath. Maybe.
TBC...
Josie Maran Cosmetics Argan Oil - Click here to get it at Sephora