I spent the month of December sorting through all products - full sized and samples alike. And though it was painful at times, I purged anything I felt I would not use. I gave away a bunch...outright chucked even more. Now I feel organized and ready to start a new year of beauty!!
What better way to start the New Year than with some Empties :-)
Samples
1. Sunday Riley Start Over Active Eye Cream - This sample lasted a really long time...a good 2 weeks or slightly more, and that was with both day and night use. I barely need any to cover my whole eye area. It feels good going on and has a slight cooling effect. I ended up purchasing this during the Sephora VIB sale, though I think I might have jumped the gun a bit. I had itchy trigger fingers because I was only into my first few days of this sample but didn't want to miss out on the sale if I ended up liking it. I can feel it tightening up my under eye area slightly for the few mornings I feel a little puffy. Other than that I haven't seen anything different than what my Shiseido Benefiance eye cream does. And I have very dry under eyes so I have to use this as a serum underneath regular eye cream because it's not nearly moisturizing enough on its own for me. The regular size is a full 1oz bottle instead of the average .5 oz of other eye creams, so it's actually cheaper than many mid to high end potions especially since I purchased it during the sale. Right now I can take it or leave it. Maybe I'll feel differently once I finish the bottle?
2. Elta MD Body Lotion - not enough in this to even cover one leg! Moisture didn't last even to midday...a big deal breaker in my book. Will not purchase.
3. Peter Thomas Roth Mega-Rich Body Lotion - I find the "Mega-Rich" part very misleading, and expected this to be more of a body butter than the slightly runny lotion is actually is. It felt a little greasy during application, and the moisture only lasted until the evening. Will not purchase.
4. Kiehl's Creme de Corps - Gosh, you see this in practically every magazine and must-have list around!!! I did try this a long time ago and wasn't super impressed, especially given it's pedigree and loyal following. Not impressed this time around either. It felt really good as I slathered up, but I found it a touch greasy and it didn't sink in quickly enough. It did leave my skin very soft, but that was downplayed by the fact that the moisture didn't last. I'd expect this to keep me moisturized well into 24 hours, but it failed by late evening. Will not purchase.
5. Ojon Rare Blend Oil - I've tried a few hair oils here and there but haven't found one that seemed to be worth the trouble. AHEM...until now, that is!!!! I purchased this even before I was done with the sample, in fear that I'd be caught without!!! It leaves my hair soft, soft, soft...my blowouts look better and last longer...and my hair looks healthier!! Plus, I love that it also acts as a heat protectant so I get multiple uses out of just one product.
Regular Products
1. Sunday Riley Ceramic Slip Cleanser - Still my Holy Grail Cleanser. Review here.
2. Replenix Fortified Exfoliation Scrub - Review here. Since rediscovering ExfoliKate and extending my exfoliation reach into less abrasive products, I now find this too harsh for my liking. Though this was my 3rd or 4th tube, I will probably not purchase it again.
3. Kate Somerville ExfoliKate - I think this is the 3rd month in a row now that this product has been in my Empties!! LOVE LOVE LOVE!! I've already repurchased!
4. Replenix All-Trans Retinol Eye Repair Cream - Review here. While I did really love this product...well...there are just so many eye creams to try...so little time! I'll probably repurchase in the future, but not immediately.
5. Avene Cream for Intolerant Skin - Discontinued. Review here. I have one more 1/2 tube to use up.
6. CeraVe Cream - I use this as a hand and body cream and absolutely love it. Keeps my skin well moisturized and soft for a good 24 hours. Plus it's readily available and fairly inexpensive!!
7. Kate Somerville Nourish Daily Moisturizer - Review here.
8. Aquaphor - this is one of my must have, always keep on me products. It has so many uses and I love these little tubes to stash everywhere!
Body and Hair Products
1. Lush Snow Fairy Shower Gel - Maggie gave this to me awhile ago, but I didn't get into it until this month. Holy cow, I don't know what they put in this stuff but it's sooooooo addicting!!!!! It smells like bubble gum and grapefruit...a combination you shouldn't like...but a combination that's as addicting as the smell of gasoline. Seriously I think I could sniff it all day!!! I will purchase this at some point :-)
2. Aveda Brilliant Damage Control - I mainly stick to Aveda when it comes to hair care, but since discovering the Ojon Rare Blend Oil I don't need this heat protectant anymore.
3. Sebastian Shaper Brushable Hairspray - I don't like the way this smells and how long the smell lingers. I can even smell it over my perfume. It holds fine and doesn't build up, but I will not be repurchasing simply because of the scent!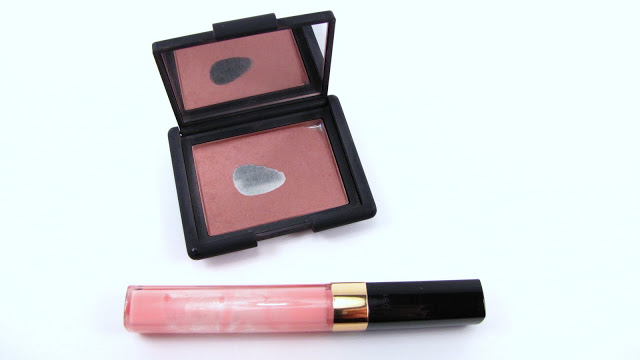 Makeup
NARS blush in Douceur - Swatched here. I love this blush and have repurchased my 3rd compact. Okay...I know most wouldn't consider this empty by any means, but I find with NARS powder blushes that once they hit this point they lose their pigment power by a lot. They aren't as soft and brushes have a hard time picking them up. I've tried scraping the tops - helps for a day or three then it's back to bad. I don't have the patience to keep doing that, so I'd rather just buy a fresh one.
Chanel Glossimer in Plaisir - Swatched here. This is my go to lip gloss and I've already repurchased it!
The Usual Suspects
CeraVe Cream - as stated above I love this stuff!!!
Avene Thermal Water - I do go through a lot of this in a month, but in my defense at least 2 of these cans I found in random places and had barely anything in them. Nevertheless...love this thermal water and I use it to 'rinse' and before applying moisturizer. I also use it to finish off my makeup and as a midday pick-me-up.
YAY for Empties!!! :-)