The story behind the Tatcha brand is rather romantic, and goes hand in hand with the care that is wholly evident in their product presentation and quality of ingredients. From Tatcha:
For over 300 years, Japan's geisha have been held in awe for their enduring wisdom and breathtakingly beautiful, porcelain skin.
Perfected through centuries of timeless rituals, it was widely believed these beauty secrets had been passed down from one generation of geisha to the next by word of mouth alone.
That is, until TATCHA rediscovered their coveted daily regimes in a 200 year-old ancient manuscript, written in the twilight of Japan's Edo Period.
Traveling back to the City of 2000 Temples (Kyoto), TATCHA has worked with teams of scientists, scholars and geisha themselves to decipher the rituals and ingredients from this text. What we uncovered is the very foundation of Eastern skincare and beauty.
We offer these formulas in homage to the icon of Eastern beauty and our own storied heritage. Through a proprietary process involving the very best green teas, Okinawa red algae and rice bran—as well as other indigenous extracts—the secrets of the geisha live on in TATCHA.
"Tatcha is my way of sharing my journey East to seek out the meaning behind the myth of the geisha." —Victoria Tsai Founder, Chief Treasure Hunter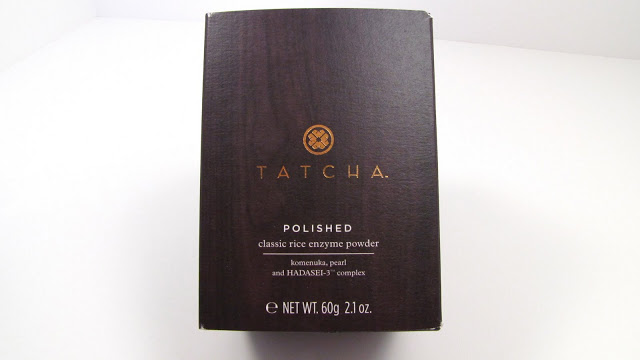 Tatcha Classic Rice Enzyme Powder, $65/2.1oz @ tatcha.com, Barneys
The history behind this product kinda makes me swoon too:
When brewing their fabled drink, sake masters, or Toji, constantly immerse their hands in rice bran, only to have them emerge fresh, pure, cherubic. Geisha noticed this phenomenon and rely on rice bran even today to polish their skin to a luster
I'll say right off - LOVE, LOVE, LOVE!!
After washing with this, sometimes I pat my hands around my face because I can't believe how soft it is...I tell ya'...baby butt soft!! Oh, and it's so smooth too - but not kind of shiny smooth you get after using chemical exfoliation, such as mandelic acid. This looks like you were born with it.
The exfoliation is amazingly gentle, and feels nothing like regular scrubs. It feels like you are rubbing a very thin, somewhat watery paste around your face. It's so gentle you may question whether or not it's actually doing anything. Trust me...it is.
Tatcha says:
This creamy, water-activated enzyme powder effortlessly releases debris from skin, leaving it polished and baby soft in an instant. Optimally conditions skin to receive benefits of any treatment product used in conjunction with it.
I do feel as though my products absorb better since I have started using this. It reminds me of Clarisonic's similar claims, only this enzyme powder manages to do it with no batteries and no sonic brush head. It's as kind to your skin as simply washing your face.
Sorry - I'm not trying to give the Clarisonic a bad name. I know it works wonders for so many people, but for those it didn't work for (ahem...me!!) we must find alternatives!
Here's what the main ingredients do for you:
Japanese Rice Bran (Komenuka)—prized for its skin soothing and smoothing enzymes and gamma oryzonal, a potent anti-oxidant against UV damage
Papaya Extract—rich in Papain, a multi-tasking proteolytic enzyme favored for being an excellent exfoliator and skin softener.
HADASEI-3TM Bioactive Complex—a proprietary anti-aging complex of Green Tea Complete DNA, Okinawa Red Algae, and Japanese Rice Bran Extracts.
You may recall my "...Unveiling Tatcha" post and how impressed I was with the packaging that my samples and Classic Rice Enzyme Powder arrived in. Let me tell you the packaging for the enzyme powder itself is no exception!!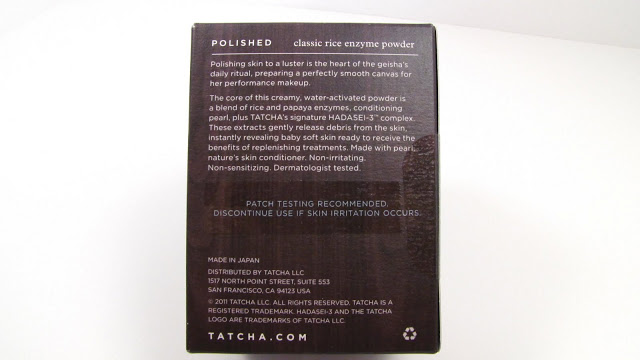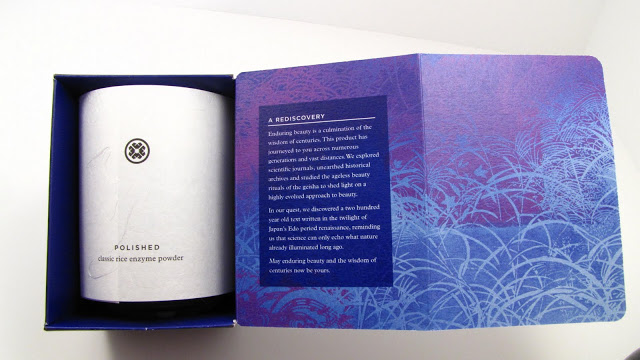 The front unfolds to show the enzyme powder container (also in its own wrapping) and tells the Tatcha story.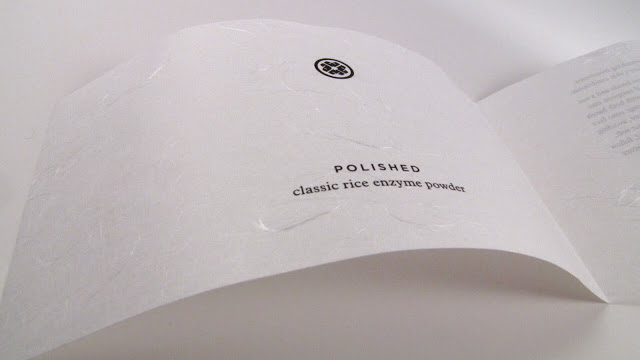 Here is the cover from the enzyme powder container. It's printed on the same gorgeous paper that the note from the shipment was printed on.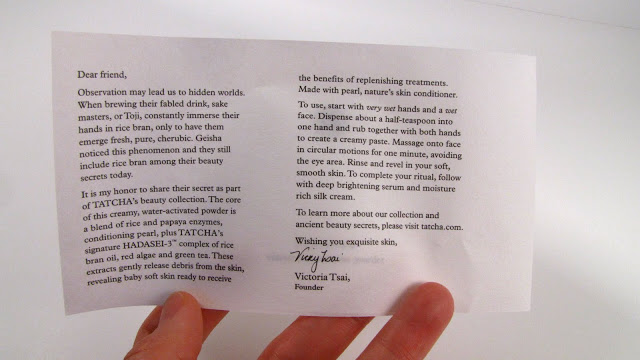 ...a little more history and usage, "signed" by the Founder of Tatcha, Victoria Tsai.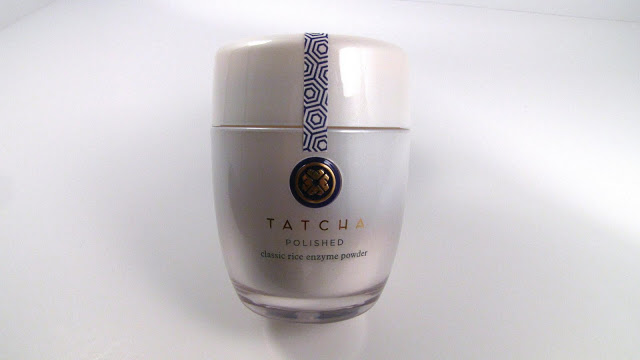 The Jar has this decorative tape.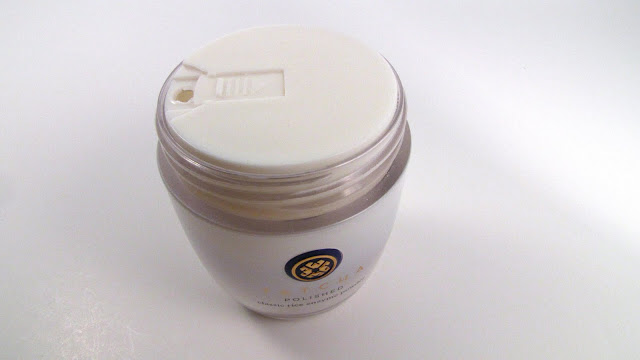 The cover under the lid slides open for the dispenser. Make sure to close it when you are done so the powder doesn't spill out!!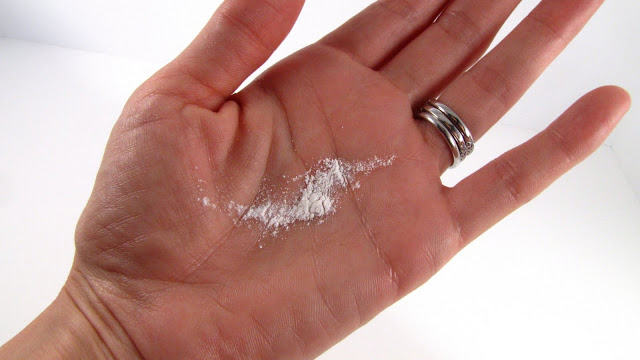 You pour a little of the product into your palm, Tatcha recommends 1/2 teaspoon. Note that is more than is shown in the picture. I only used a very small amount to illustrate what it would look like when water was added.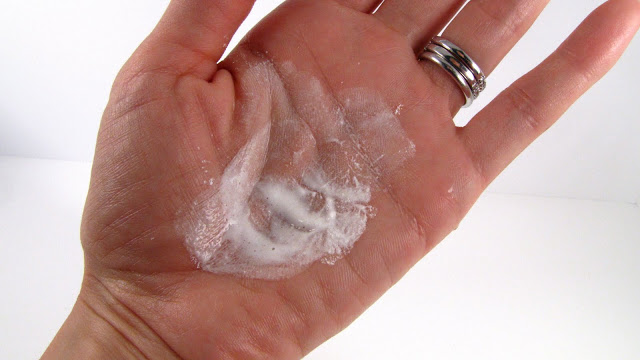 This is with water added. What I like to do is keep one hand dry, and wet my face with the other hand. Keep this one hand wet. With the dry hand I pour the enzyme powder into the wet hand. With my dry palm I cover the enzyme powder, then rub my two palms together slowly until it becomes a thin paste and I can work it onto my face. This helps keep the product from going anywhere but your hands. I use this after cleansing, but it can also be used alone on no makeup days or in the morning instead of cleanser.
This version of the enzyme powder is milky in color, and I do not notice any scent. My face doesn't feel even remotely dry...it feels very comfortable and fresh. Did I mention my skin also looks brighter! And since this is a powder, it's great for travel - no liquid restrictions here!
I have yet to find an exfoliation method that is this gentle, yet this effective. I really feel this will be a staple in my skincare routine for a long time to come, and highly recommend this as a 'must try' item for anyone claiming to be a skincare junkie :-)
I did try a similar product way back when - Amore Pacific's Treatment Enzyme Peel. It smelled like a soapy version of the Amore Pacific fragrance, and it also would suds up too much and go up my nose. Bottom line though, it wasn't nearly as effective and lovely to use as Tatcha!
If it is at all possible to have a brand crush, I've got a crush on Tatcha!! I love the whole story and history, and am utterly impressed with the care that goes into each step. Next I want to try the Camellia Cleansing Oil, Deep Brightening Serum and Moisture Rich Silk Cream. At some point I want to try the rest of the enzyme powders, too - Gentle Rice Enzyme Powder and Deep Rice Enzyme Powder. There is a sampler pack available (HERE) for only $49 ($162 value) that contains all of the products mentioned with an additional full sized pack of the Petal Fresh Original Japanese Beauty Papers.