So my foundation hunt started because my Make Up For Ever HD Invisible Cover Foundation was running out and I wanted to try something else. Oh, and it seemed like the MUFE HD was contributing to breakouts whenever I put it on my chin - mainly I put foundation on my entire cheek area since that's where all my unevenness is, unless there's something I'm trying to cover up elsewhere.
Don't get me wrong...I absolutely love the coverage, finish, lightweight feel and beautiful way the MUFE HD photographs. But I've used this particular foundation for almost 2 years and there are sooooo many new ones out there to try!
...and it was on...think my eyes were glazed reading/watching review after review!!
Finally decided on the Laura Mercier Mineral Powder SPF15. I wrote a little about this a few posts back, but here's an update...I gave up on it after approx. 6 weeks.
Pros:
* very finely milled - this along with pearl powder gives it a very soft, silky feel
* has a soft-focus, almost candlelit or semi-satin finish
* for travel it's great to not worry about liquid restrictions
* didn't feel drying like some other mineral foundations can be
Cons:
* after many weeks it felt slightly itchy on my skin (not itchy/dry...just itchy), some days were better/worse than others and the fact it's winter may not have helped.
* only available in 8 colors. I had to buy and mix 2 colors to get a good skin tone match. It didn't bother me at first, but became a pain the more often I had to mix.
* around my oily nose and chin it would crack and separate after only a couple of hours. At first I didn't mind rebuffing it out, but the more often I had to rebuff the more annoyed I became.
* much more time consuming for me to apply than a liquid foundation. Add to that all the time spent mixing colors and rebuffing and I just didn't want to play anymore!
All that said, if you are a mineral foundation lover I highly recommend trying the Laura Mercier. If you can get a good color match this can be a really nice foundation.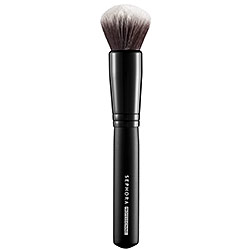 My friend Maggie @ MacMeBlush turned me onto this Sephora Collection Classic Mineral Powder Brush #45 ($26). Though it has a smaller brush head than your average mineral powder brush, I found this made it easier to maneuver around my nose and cover any redness. It also seemed easier to really buff out the foundation to create a beautiful finish. Very soft bristles and does not shed.
After laying the Laura Mercier Mineral Powder SPF15 to rest, I went on another review binge and finally settled on trying out a Bobbi Brown foundation. I wasn't sure which specific one yet, but I was drawn to the huge yellow undertone color selection. I used Bobbi Brown Oil-Free Foundation for a couple of years around 2005, and loved the perfect color match.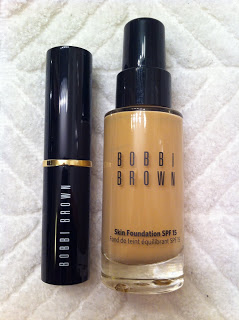 I went to the counter at Nordstrom and asked what the Associate working there thought. She suggested the Skin Finish Foundation SPF15 ($46). She applied this foundation in 2.5 Warm Sand, another perfect match. Loved the finish and lightweight feel, but the coverage on my discolored cheeks wasn't what I was looking for so I asked if I could use the Foundation Stick ($41) over the Skin Finish for those areas I wanted more coverage. She said yes...I loved what I saw...and I purchased both!! I've only used the foundations a few times, so not enough time yet to write a review, but so far I'm liking them better than the Laura Mercier. Hopefully I'll stick with it enough to write more later :-)
And for those of us who obsess about makeup and skincare, here's a really funny reality check!!! Ha ha :-)