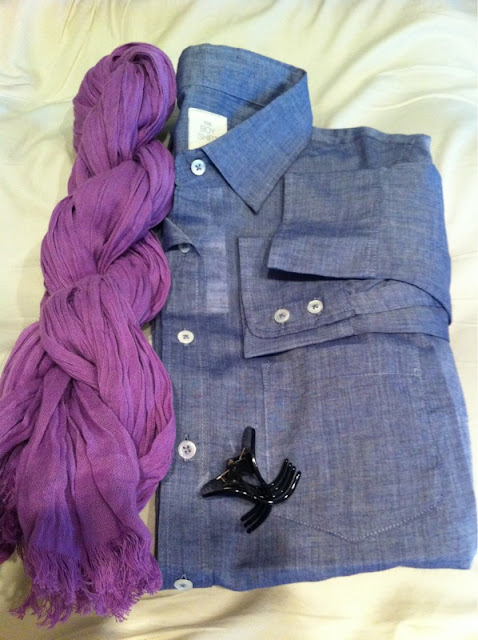 Today's lunchtime J.Crew haul: Indian Voile Boy Shirt, Indigo, $69.50...Crinkle Scarf, $19.99, med sized clip, $10.
I'm really in love with the Boy Shirt. It's so lightweight and soft it almost feels like a silk dusting. I tried it on with skinny jeans and an orange/pink skinny belt. It was a great look! I can also see it under a cardigan with the sleeves rolled up, over a cute bikini and with cargo shorts & sassy wedges. Note, it is a bit see-through (you can see the tag through the fabric near the collar) so you will need to wear a cami, tank or otherwise. The scarf I couldn't resist because it's a favorite color of mine, and well...when do you not need another scarf and I actually don't have a solid one in this color! Yeah, yeah...I still wear banana clips :-)
Item of the Day! Sally Hansen Insta-Dri Nail Polish in Slick Slate @ various drugstores.
I'm sure I'm way late to the greige revolution in nail polish. At this point I have seen lots of blue and green hues in the magazines. BUT I saw this in Walgreen's on sale for $3.99 and couldn't resist because I have wanted to try this color for a long time the Insta-Dri from Sally Hansen since is supposed to be a one coat color that dries in 60 seconds!
This is not 1 coat. Not this particular color. If you globbed it on your nails it might be 1 coat, but then it might not dry in the advertised 60 seconds.
Normally my pedicures take almost 2 hours because I allow at least 1/2 hour in between coats (two coats of polish and top coat). This took maybe an hour? The first coat dried very quickly. I will say it seemed dry after 60 seconds, but I am paranoid about smudging so I let it dry for about 10 minutes. Then some parts of my nail were quite spotty so I did put on a second coat. I let that one dry for about 20 minutes and put the top coat on after that. I let all of it dry for a good 1/2 hour and it seemed pretty done. Again though...I'm paranoid so I did sleep with my feet hanging out of the covers for about 1/2 the night until they were really cold and I could not sleep anymore, which is my usual M.O. for pedicures. But I really don't mind since they usually last a month.
The nail polish brush is nice and flat so application was smooth. But the shape of the applicator (what the brush is attached to) is funky, which makes it a bit difficult to get it out of the bottle to get the proper amount of polish on the brush. And if you don't paint quickly enough the brush will tend to drip from the top of the applicator.
Overall though, I will be looking to purchase more colors of this quick drying polish! It cut my pedicure time in half and that's enough for me! Oh did I mention I REALLY love this color!!